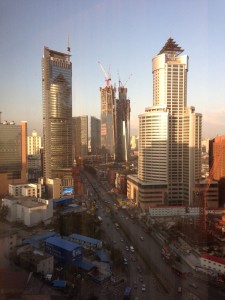 We left San Francisco on Saturday morning and arrived in Tokyo Sunday evening.  We stayed at an airport hotel and went into the town of Narita for dinner.  It was fairly deserted because it was Sunday.
I am traveling with two co-workers, one of whom is my new boss, and the other is Chinese himself, and, luckily, speaks Mandarin.
Monday morning we returned to the airport to fly directly to Dalian, the home of Neusoft, the company that we are contracting with to do test development.
Our departure was delayed for about an hour because of some security problem that was never fully explained to us.  All security screening was suspended for some time and an extensive line was formed.  But it eventually was resolved and since all flights were held during the delay we eventually took off.
We landed in Dalian about an hour late and were met by a van from Neusoft.  We went directly to their facility, a beautiful, modern building.
Inside there is a huge multi-story lobby area, yet the actual work environment seems cramped by American standards.  Cubicles are about half the size of those in American offices and are shared by two people each.
We were given a presentation on some of the work Neusoft is doing for us and were given a tour of their lab. We had some further discussions and left relative early (around 4).
The three of us ate dinner in the hotel in a Chinese restaurant.  The food was elegant  and tasty.
I woke up around 2 am due to jet lag, and got up and tried to catch up on my email (a never-ending battle).  when the restaurant opened at 6 I went down.  The food was mostly Chinese–instead of scrambled eggs, they had egg fried rice.   I ate with the guy who is the liaison between our company and Neusoft.  He lives in the bay area but spends 2 weeks every month here in Dalian.  I really don't emjoy the long flight from there to here so I don't see how he can stand traveling so often.
After breakfast I walked around the block.  It was brisk and breezy.  The buildings here are all tall and new.  except for the writing on the signs I could easily have been walking in Chicago.
Now I'm waiting for the appointed time to be picked up to go to Neusoft for the first day here.